Congratulations to 4th grade student Bryson, as his yearbook design was chosen to go on the 2022-23 elementary yearbook. Way to go Bryson!

Attached is the two-hour late start schedule for your reference.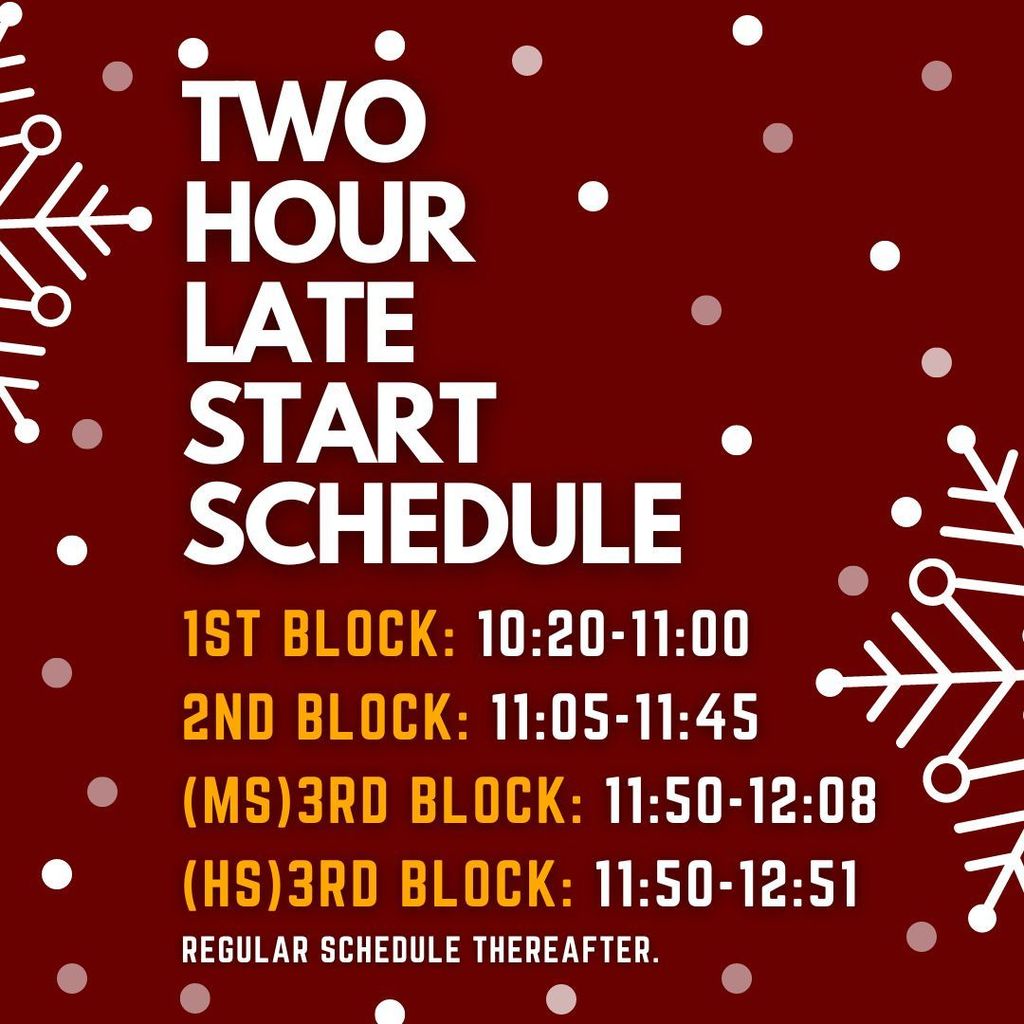 Although the weather doesn't seem like Prom should be happening, our plans are in full swing! If you are interested in what will be happening on March 31, please take a look!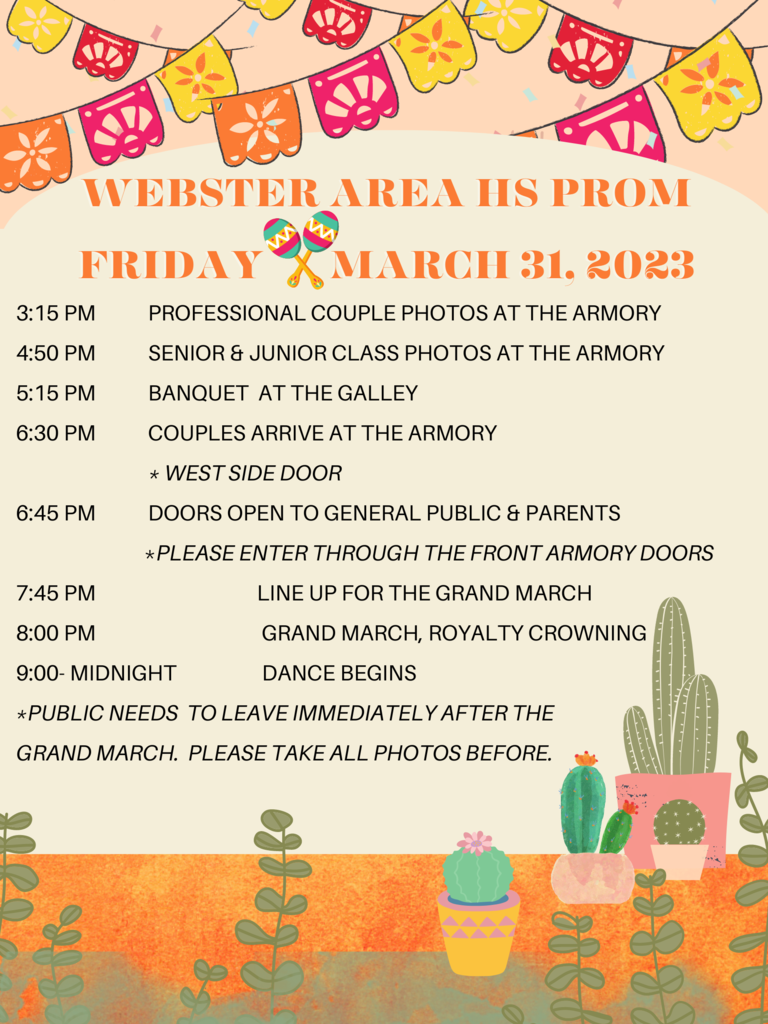 Each year, organizations across the state promote the awareness of the over 400,000 people in the U.S. that are diagnosed with Down Syndrome on March 21. We give this day up to Malin Kwasniewski and Jaelyn Rithmiller! These two bring us many smiles and much joy everyday!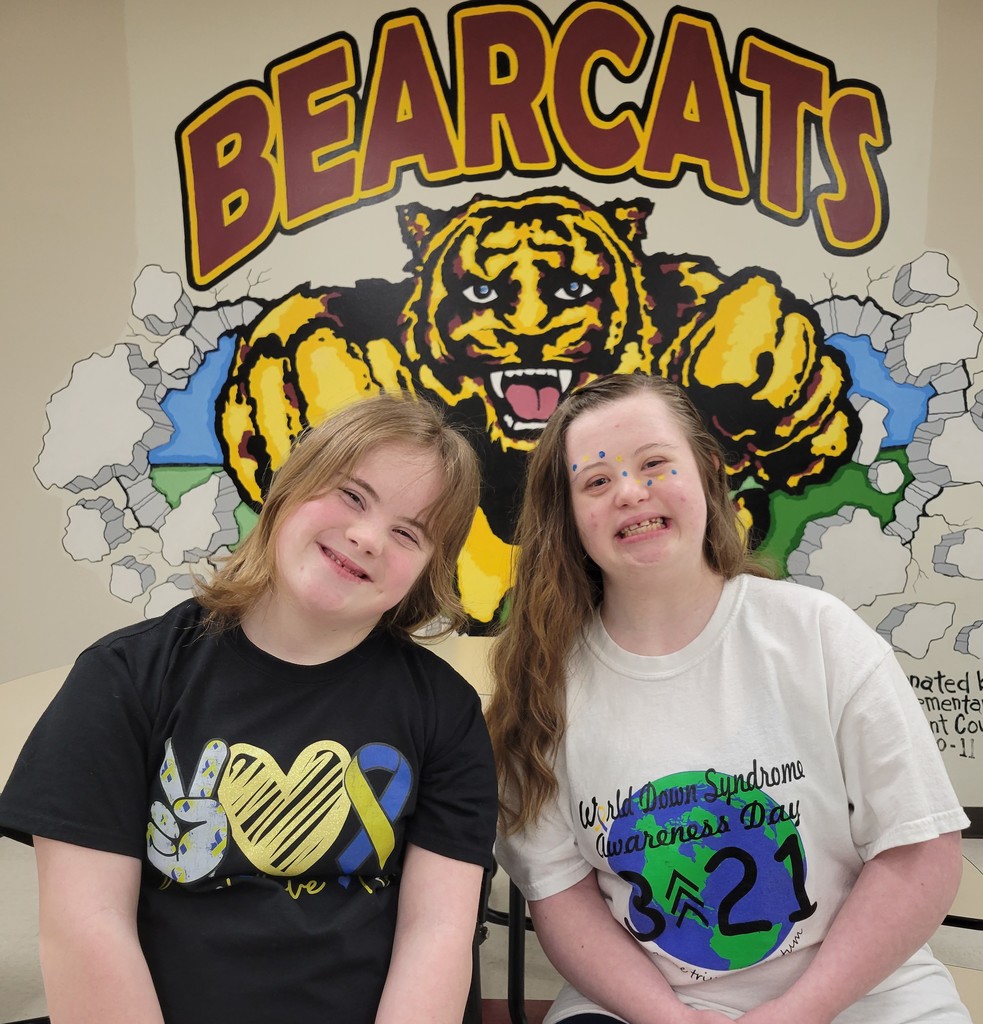 With the ongoing wintery weather, you may want to check out this video:
https://youtu.be/6I5MYtnVoEg
It was created by junior English students as a satirical activity...bringing some humor to the situation!

The food truck arrived during serving time for elementary lunch. We needed some help unloading the truck. Thank you to Zayden, Delaney, Jacob, RaeLynn, and Gabriel for helping!

April is Autism awareness month - In support of this, we are ordering shirts this year (image attached)! Orders are due BY 3/16/23. They will be personalized with 'Webster Area Bearcats' on the sleeve and are $9.95 each. If you would like to order, you may follow this link,
https://sharedorder.com/DF40966
and purchase online OR order forms will be placed in elementary/high school offices. **Special thank you to Knights of Columbus who are sponsoring our 2nd grade class and providing a free shirt for each student!!

Congratulations to Mr. Fred Zenk for being selected 2023 Teacher of the Year! Mr. Zenk has served as the Webster Area Ag teacher and FFA advisor since 1996. He has prepared students for college and career readiness for over three decades. He has also guided hundreds of students through FFA leadership opportunities throughout his career. Thank you, Mr. Zenk, for everything that you do!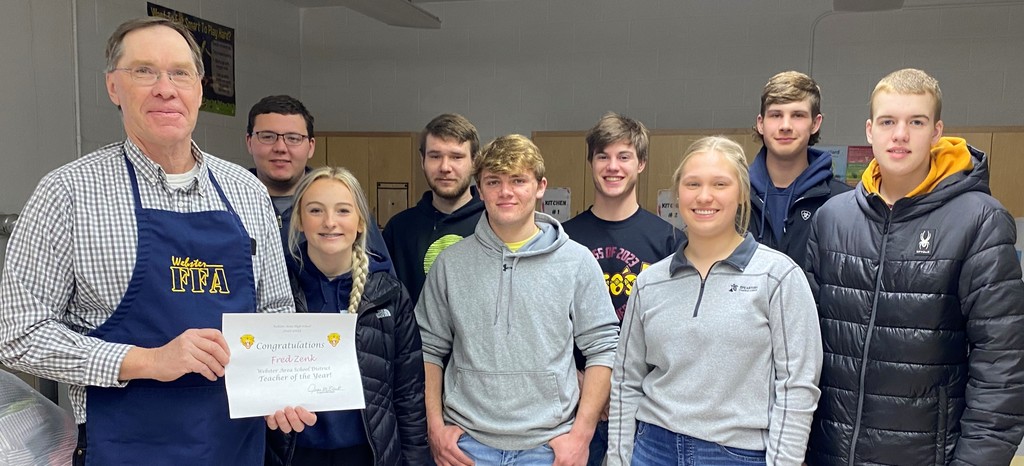 Congratulations to Brian Graue, elementary custodian, for being selected as the Support Staff Member of the Year for 2022-2023! Brian has been with the district since 2018...taking care of the elementary, the Commons area, and many other duties. Thank you, Brian, for your continued efforts in keeping our school tidy and clean!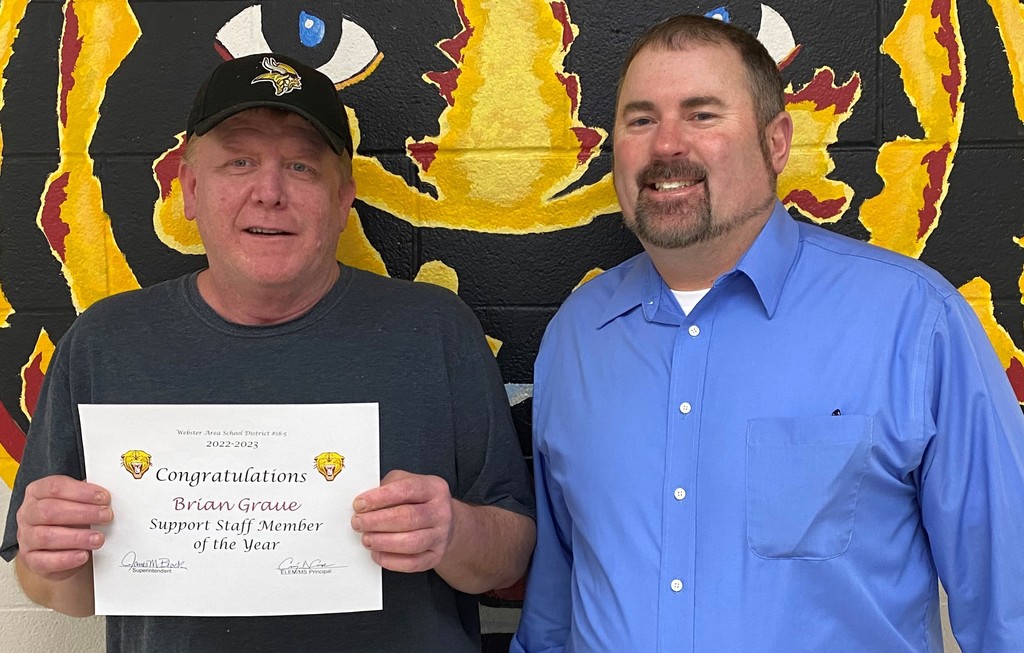 Elementary Student of the Month: Top row L to R – Skylar Lee, 1st grade, Edgar Hamann, Kindergarten, Turner Wickre, 2nd grade Bottom row L to R – Ty Howder, 3rd grade, Easton Ermer, 4th grade, Holly Lone, 5th grade.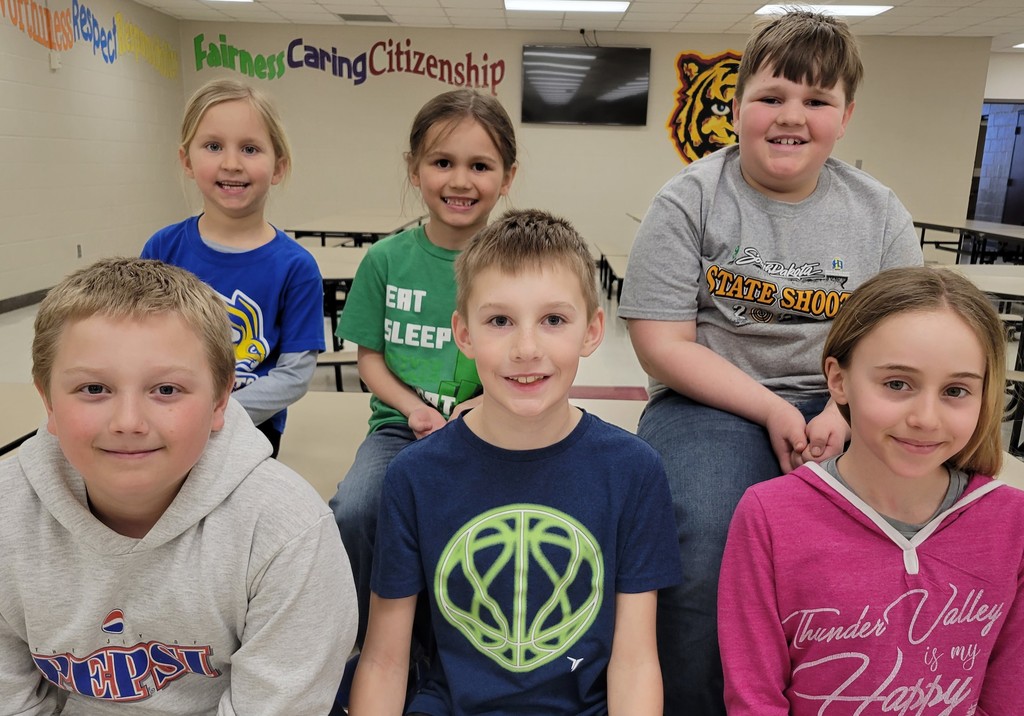 Congratulations to our Middle and High School February Students of the Month! 12th Elliott Steiner, 11th Tucker Popham, 10th Michael Dorsett, 9th Jeron McCreary, 8th Lola Wells, 7th Delaney Atherton and 6th Samantha Ermer.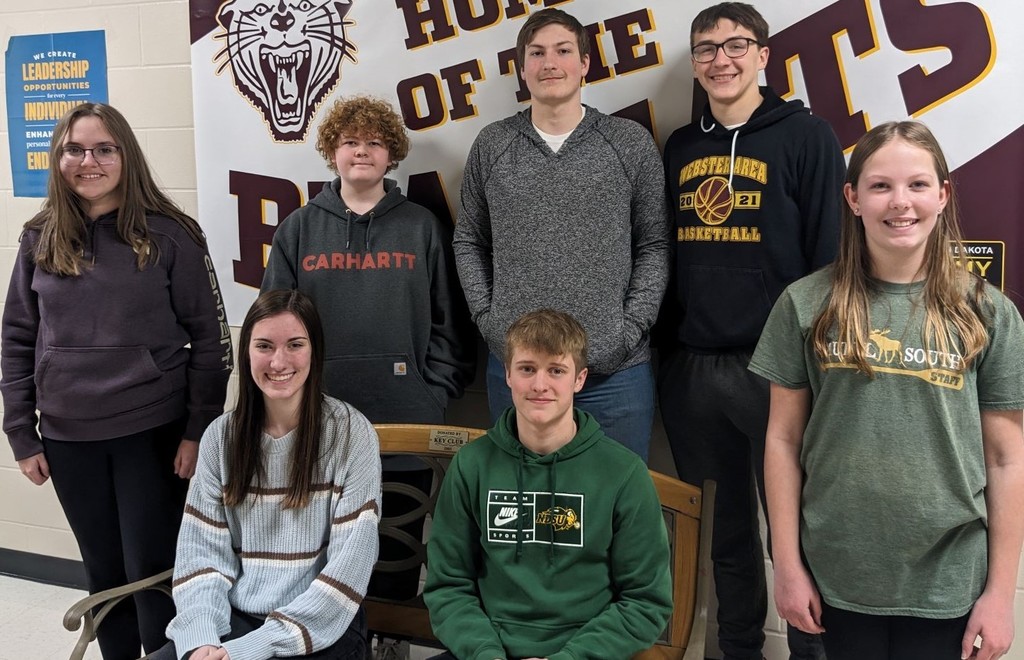 Congratulations to the 2023 National Honor Society Members and Inductees!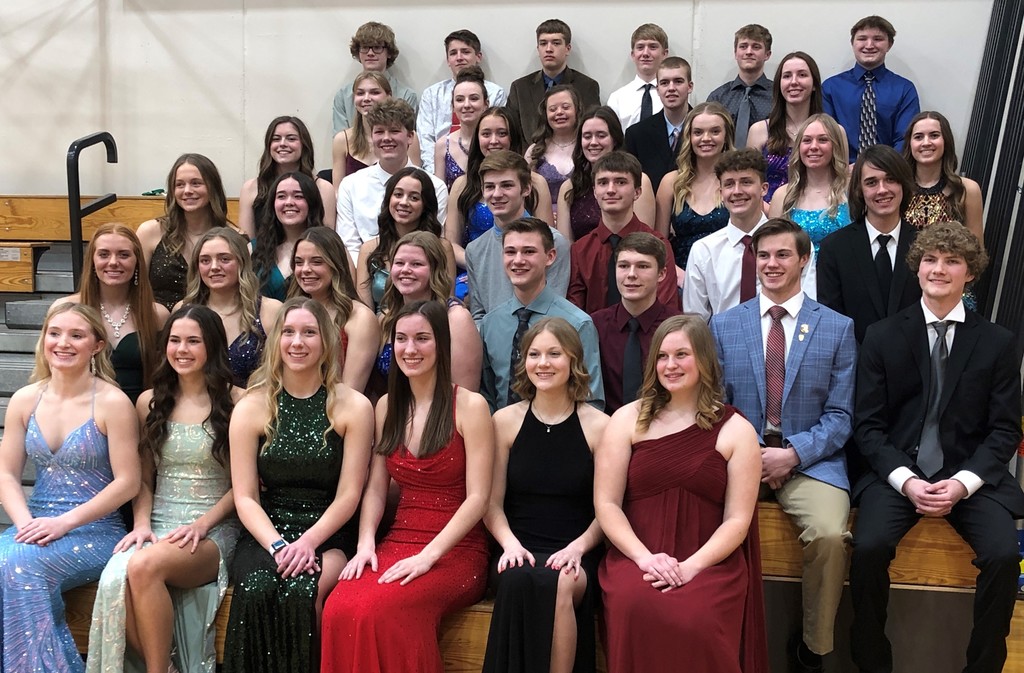 Trap Shooting Sign-up - Grades 9-12 We are about to kick off our 4th year as a high school trap team! Registration is open for the Webster Area High School Trap team if you are in grades 9-12. Below are some instructions on how to register. 1. Click this link
https://www.claytargetscoring.com
2. Click on AMS 3. You will now need to create a new account if you don't have one already 4. In the "Enter Team ID" blank type web355 These steps should get you into a screen so you can create a profile. Once this is completed then we will get a notification on our end and then we can send you an invite. We have a Facebook page "Webster Area High School Trap Team" that we use to help communicate with students and parents. Shoot us a message if you are having trouble and we will do our best help you out. Additional Information We will be shooting Tuesday nights starting at 5 PM (thinking 2.5 hours long for the first few nights until we get in the swing of things) at Webster Claybird Club located at 14086 435th Ave. Webster, SD 57274. The first night will be March 21st and we will meet at the GFP Office in Webster at 603 East 8th Ave at 5pm. We will have a short orientation (Approximately 1 hour). First night of shooting will be March 28th. We will pay individually this year when you sign up which is $35. If you have a shotgun please bring it. You can bring eye protection, shell bag, and ear plugs if you prefer to use your own otherwise we will provide eye and ear protection and shell bag while shooting for the league. Registration closes at noon central time on March 20th The league does not allow late registration We look forward to seeing you all in March!

School Safety Tips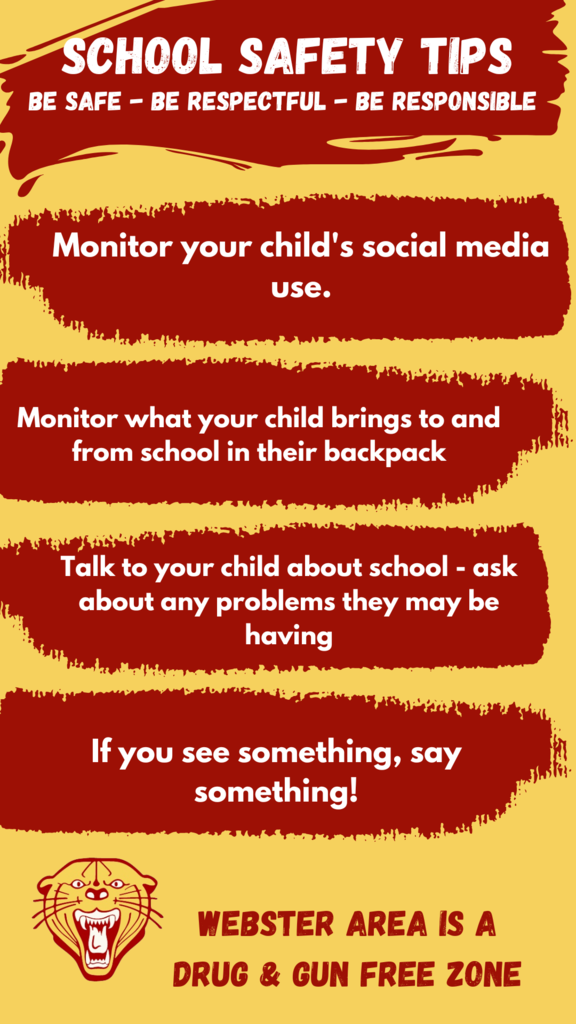 Please make note of the following changes to the current school calendar. These amendments were approved at the special board meeting this morning. School will be IN SESSION: • Monday, February 20 (President's Day) • Friday, February 24 (State Wrestling) • Friday, March 10 (In-service day moved to the end of the calendar) • Monday, April 10 (Easter Monday) • Friday, April 28 (In-service day moved to the end of the calendar) With NO additional snow days and making up ALL of these days, the final day of school will be Monday, May 22nd. These amendments will allow for 4 additional snow days prior to the Memorial Day weekend should we experience future inclement weather.

Driver Education class will be offered for 8th grade students or older, and 7th grade students turning 14 before January 1, 2024. Deadline to register with payment is March 17th. There is space for 35 (first come first serve basis). Out of district students will be able to register starting March 20 if there is space available. Registration forms can be picked up in the elementary/middle school office. DE class will be held May 31-June 2 (subject to change with snow days). Any questions, contact Craig Case, 345-4651.

Webster Area School District – Part Time Middle School & Full Time High School Special Education Paraprofessional Opening: Positions to start ASAP. Must have an AA degree or pass a Praxis test. Will have to complete a fingerprint and background check. Day hours. Must possess excellent oral and written communication skills. Portrays a positive self-concept and attitude. Maintains professional appearance. Demonstrated ability to work courteously and cooperatively. Ability to work efficiently with students, staff, and administration. Computer skills. Demonstrated ability to maintain privacy and confidentiality. Send letter of application / resume to: Webster Area School District– Craig Case 102 E. 9th Ave, Webster, SD 57274. Questions, call 345-4651.

The Office of Special Education Programs would like to honor an individual who works in the special education field and has positively impacted the life of a student. A parent/guardian can nominate any staff member working with students in special education including (but not limited to) teachers, paraprofessionals, speech therapists, occupational therapists, physical therapists, and special education directors. Please contact the office (345-4651) for a form.

Reminder from Sheyenne Transportation: Parents should drop their children off on the north side of the Elementary, not where the buses unload. Thank you!